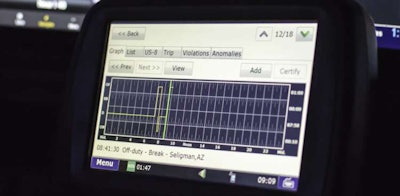 Despite trucker protests and numerous efforts to block it, the federal government's mandate requiring most trucks be outfitted with electronic logging devices became law today.
Starting today, inspectors and roadside enforcement personnel will start documenting ELD violations on inspection reports and may, at their discretion, issue citations to drivers that do not have a compliant ELD in their truck. Then, starting April 1, inspectors will start placing drivers out of service if there's no ELD.
However there are some exceptions. They include:
Drivers of vehicles with engines manufactured before model year 2000

Drivers who conduct driveaway-towaway operations where the truck being driven is the product being delivered

Short haul drivers using the logbook timecard exceptions (i.e., 100 air miles for CDL drivers or 150 air miles for non-CDL drivers)


Drivers of trucks rented for eight days or less.
There have also been some exemptions granted, but these haven't made everyone happy.
At least one trucker had an interesting ELD experience.
David Miller today posted this in the Truckers Haven Facebook group:
I just had an officer ask me to explain several things about my ELD. Apparently they're trying to familiarize themselves with the different systems, so they're pulling people over to see what they're running. Well, I tried explaining what he asked, but he cut me off four different times in the middle of explaining to ask a different question. Then proceeded to say he still didn't understand my system and I need to figure out how to use it, or they're going to end up writing citations.
Now, I know very well how to use it. I'm the one who implemented it across the fleet. He just wasn't understanding himself.
Waste of 30 minutes.
Here's a smattering of what folks have been saying on the Truckers News Facebook page this morning:
Aaron Strassman: I'm still driving and will continue to do so and I'll laugh at all the crybaby "outlaw truckers" who are whining about the ELD mandate because they are the reason this all came about.
Michael Brinkley: Am parked. It's sad that midnight last night I with so many others … Are no longer hard working truckers trying to take care and provide for our families … Instead in the eyes of the Government we become criminals who need to be tracked 24/7/365 … Show me in the Constitution where it reads the government has the right to track the working class.
Voise Davis: I've been back on e-logs for a few years now. I haven't lost one cent because of it. And before I'm asked, yes I'm an o/o leased to a carrier. No, I'm not paid by the mile. One simply has to choose their freight wisely these days.
Rickey Brouillette: Yes indeed she is parked and will be sold.
Murray Head: Everyone knows the HOS are the problem, not ELD's, and I'm also sure we all know nothing is going to be done by the government to fix the real problem.
Jen Hannah: The sky didn't fall, still running around in NJ and PA like normal.
Bob McKay: We don't have a logging problem. Either method, whether it be paper or electronic, keeps a record of your hours. We have an HOURS OF SERVICE problem. In particular, a 14-hour rule problem. Dumbest thing the government ever created.
Jennifer Belles: Two years ago my company let me know through violations they were willing to sacrifice my license for their own gain. I quit them, started team O/O with my old man. Elogs will do some serious damage.
Richard D Huckstep: I had Elogs for years never lost a dime. Wouldn't believe how my health improved. Sure had to stay with it to make to appointments. Overall I got more rest and most of time had more hours than I needed to get from point A to B. Best of all the dispatcher couldn't argue with me when I told him I didn't have enough hours to get there.
Bridget Pecora Burnap: My husband and son are team owner/operators. ELD is in place and working well and to be honest saves tons of paper. Your phone does it all. I think they like it much better.
Bryan Blake: Yes I am on Elogs. Do I completely agree with everyone having to have some form of it? No. All it is doing is enforcing what laws are there. And honestly what needs to be changed is hours of service. Unfortunately until people stop doing stupid things, so will the laws stop. This includes newbies and the hard headed ****** that don't listen or wanna learn anything new.
Paul Whitlow Jr.: I've been using E-logs for 7 years. It's not a big deal and pretty much a no-brainer. Very easy to use and I don't have to mess with storing old logs.
And, then there is this:
Robert Cooper: It's chaos and bedlam out here! Fights breaking out all over! Trucks burning! Animals dancing! The moon and the sun are out at the same time! Heaven help us!!!!! It's the end of the world as we know it. It's the end of the world as we know it. It's the end of the world as we know it. I feeeeel fiiiiiiiiiiineee………
For more information on the ELD rule, visit FMCSA's ELD implementation website.