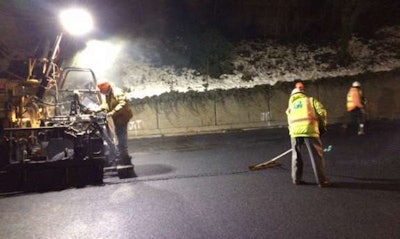 A project is underway to improve access for large trucks traveling Interstate 278 in both directions between the Robert F. Kennedy Bridge and the Long Island Expressway in Queens. The $2.5 million project, which began in November and is on schedule to be completed by the end of the year, increases the clearances of three bridges along I-278 in Queens. The work will reduce truck traffic on local streets by allowing trucks to stay on the highway, according to a statement from Gov. Andrew Cuomo's office.
Currently, trucks with a height of more than 12 feet 6 inches traveling on I-278 are directed to exit the highway and use truck routes on local streets at Astoria Boulevard, Queens Boulevard, Northern Boulevard and Broadway. Higher clearances will enable the trucks to stay on the interstate and avoid local streets.
This project increases clearances at the 31st Street, 69th Street and Broadway bridges by lowering the roadway, micro-milling the concrete pavement and lowering catch basins. The roadway will be resurfaced and striped. All signs that divert the trucks to the local streets will be removed.
"This common-sense infrastructure project will improve truck access on I-278 while enhancing safety and quality of life for hardworking Queens residents," Governor Cuomo said. "Working with the local community and truckers, we are correcting a long-standing inconvenience, improving safety and reducing congestion as well as helping trucks and area residents get around safely and more efficiently," said Cuomo.