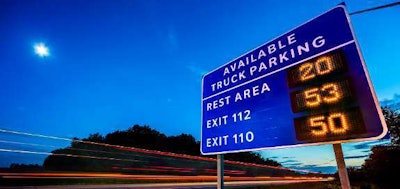 Finding a place to park while driving through a midwestern state is going to get easier.
The Iowa Department of Transportation is implementing a truck parking information management system along the Interstate 80 corridor.
The project is part of an eight-state initiative that will provide truckers will real-time, in-cab information on truck parking availability at public rest areas and private
truck stops
. Other states participating in the initiative are Indiana, Kansas, Kentucky, Michigan, Minnesota, Ohio, and Wisconsin.
Iowa DOT says its portion of the system is expected to be operational by Jan. 4, 2019.
The system collects truck parking information using in-pavement and entrance/exit ramp sensors. Parking information will be available through Iowa's 511 system, and in a data feed that can be used in existing and future in-cab routing systems, Iowa DOT says.