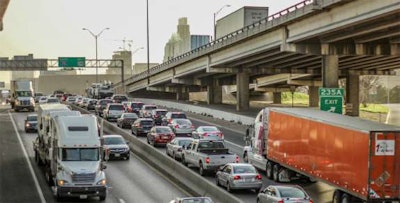 Slow drivers taking up space in the left lane may soon face steeper consequences in Mississippi and South Carolina thanks to the efforts of state lawmakers.
In Mississippi, Rep. Charles Busby, R-Pascagoula, sponsored HB80 which expands the state's current law on traffic keeping to the right unless passing. Drivers turning or exiting from the left lane would be exempt from the law. The same bill was introduced in 2017 and was approved by the House, but did not make it to the Senate floor.
Rep. Jeramey Anderson, D-Moss Point, has introduced HB565 which would allow police to ticket drivers hanging out in the far left lane when that driver "knows, or should know, that another vehicle is overtaking them from the rear." Exceptions would be made for high traffic situations and inclement weather that affects other lanes.
A third Mississippi lawmaker has introduced a bill singling out truck drivers. Rep. Randall Patterson, R-Biloxi, sponsored HB193 calling for truck drivers to operate in the right-hand lane on U.S. Highway 49. The bill specifically focuses on a seven-mile portion of that highway from Eagle Post Road in Florence to Kroger Drive in Richland.
In South Carolina, Sen. Ross Turner, R-Greenville, wants to increase the fines for driving less than the normal speed in the passing lane. The current law allows for fines up to $100, but Turner's bill would increase the fines by as much as $200. South Carolina Department of Transportation would be required to post signs about the new law along interstates, should it pass. There would be a 90-day grace period during which violators would receive a warning. The bill, S809, has been submitted to the Senate Transportation Committee for consideration.