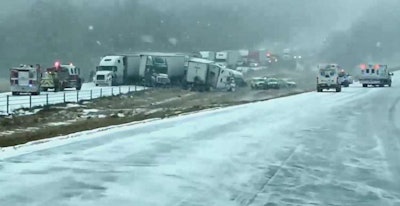 A large number of vehicles were involved in a series of weather-related accidents Sunday on eastbound I-44 in Missouri.
There were several accidents along I-44 at mile markers 106, 110 and 119 as well as in Rolla, Missouri that closed the interstate for much of day into this morning. First responders posted to social media that the wrecks were caused by icy conditions on the interstate.
The largest pileup occurred at mile marker 106 near Marshfield northeast of Springfield. It's reported to have involved between 50 and 100 vehicles, according to the Missouri State Highway Patrol. On fatality was reported, and 20 people were taken to area hospitals.
Thirty vehicle are said to have been involved in the collision in Rollo, which is located about 100 southwest of St. Louis. Eleven people were reported injured.
In addition, 32 vehicles — including three trucks — were involved in another weather-related mishap Saturday on I-94 in Rogers, Minnesota northwest of the Twin Cities. Five injuries were reported.