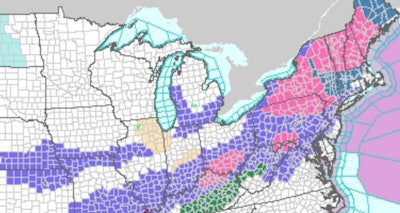 A long swath of severe weather — including significant amounts of snow and icy conditions as well as thunderstorms — is expected to spread across the Lower Mississippi Valley, Ohio Valley, and Northeast tonight and Wednesday.
The National Weather Service is forecasting "locally heavy snowfall, up to one foot, will be possible in portions of interior New York and New England. Meanwhile, heavy rain and a few severe thunderstorms are expected over portions of Texas and the lower Mississippi and Tennessee Valleys through early Wednesday."
The weather service said some locations — especially the Ohio Valley and Central Appalachians — are expected to receive over a quarter inch of freezing rain. Snow is likely north of the freezing rain. Some snow will occur in the upper and middle Mississippi Valley and the Great Lakes states. However, the heaviest snow will be located in the Northeast, where at least 6 to 12 inches of snow is forecast through Wednesday night.
Expect long stretches of interstates 79, 80, 81, 84, 86, 87, 88, 89, 90, 91, 93 and the northern part of I-95 to be snow-covered and slippery, according to Accuweather.com.
As a result of the storm forecast, the Truck Association of New York requested and received a suspension of hours of service regulations for some carriers. Hours of service regulations are on hold for drivers and carriers engaged in the intrastate transportation of salt beginning today Feb. 6 and terminating at the end of Feb. 28.