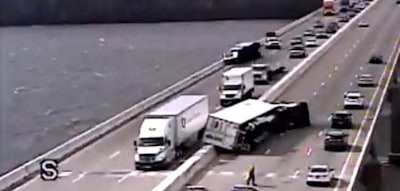 UPDATE:  This was just posted to Facebook by the Trucking Association of New York: "Our colleagues at New York State Department of Transportation have implemented a tractor trailer ban on I-88 until further notice. Deteriorating road conditions have made it difficult for tractor trailers to navigate several inclines on the road. Detour messaging will be in place. Drivers are reminded to avoid travel throughout the state if at all possible. If travel must occur, please slow down and adjust speeds for the conditions." (4:55 p.m. EST Friday, March 2)
A winter storm is lashing the East Coast from Washington, D.C. to Maine with 70 mph winds, while heavy, wet snow is falling across much of New York as well as parts of northern Pennsylvania and New England.
Meanwhile, parts of the West Coast are facing Winter Storm Quinn, which is forecast to bring heavy snow and winds to the Mountain West this weekend before spreading into the northern Plains, upper Midwest and Northeast next week.
As much as 18 inches of snow fell in western New York earlier today, causing traffic problems along I-90. At least that much is expected along and east of I-81, and even more in the Catskill and Pocono Mountains. Winds were expected to increase, causing drifting snow and making driving difficult into Saturday at least.
At about 11 a.m. the New York State Thruway Authority banned empty trailers on the Tappan Zee Bridge due to high winds. In Pennsylvania, speeds were restricted to 45 mph.
Accuweather is reporting that more than 1,000,000 utility customers are without power along the coast, and inland where heavy rains are causing local flooding.
The Pell Bridge in Newport, Rhode Island is back open to some vehicles Friday afternoon after it was closed due to a crash during Friday's storm. A tractor trailer was blown over by high winds causing officials to allow no high profile vehicles or trucks on the bridge.
Two tractor trailers overturned on the Tydings Memorial Bridge in Maryland Friday morning. The overturned trucks forced the closure of the I-95 bridge. The Maryland Transportation Authority put a hold on all traffic because of Friday's high winds. MDTA also briefly closed the Hatem Bridge on US 40 because of the wind.
West Coast Weather Conditions
The Weather Channel reports California's Sierra Nevada region had already received two feet of snow by late Thursday night. Kingvale, California saw snow drifts up to four feet in some areas. Monitors at the Squaw Valley Ski Resort in Olympic Valley measured winds up to 146 miles per hour Thursday. Malott, Washington has already received up to 26 inches of snow, according to the Weather Channel.
The Sierra Nevada is expected to receive 2-5 feet of snow through Saturday while other parts of the Mountain West may receive more than a foot through Saturday. There is a potential for hail-producing thunderstorms in northern California, but the hail is forecast to be small. Weather Channel reports Salt Lake Valley should see several inches of snow accumulation Saturday into Sunday.
All of this winter weather is having an impact on West Coast roads. A tractor-trailer drove off Highway 89 near Tahoe City Thursday. Police said the truck had not been chained and the driver lost visibility due to sudden white out conditions. Interstate 80 in California was temporarily closed Thursday due to poor driving conditions, but has since reopened. California Department of Transportation is still asking drivers to stay off I-80 from Colfax to the Nevada state line because of poor weather conditions, reports Weather Channel.
Truck driver Lei Myers was parked in La Grande, Oregon, Friday morning waiting for several accidents to be cleared and roads to open up. She looked for ways around it but all of the alternate routes were also being hammered with snow.
"All you can do is wait," she said.
Current road closures and conditions in Washington:
US 97 in both directions: Oversize loads are prohibited on US 97 in both directions at mile 16 to milepost 32 until further notice. Traction tires are advised.

SR 21 in both directions: Drivers are advised to avoid Highway 21 from Keller Ferry to the Canadian border. Washington State Department of Transportation is asking drivers to take an alternate route.

SR 20 in both directions: SR 20 over Washington and Rainy passes in the North Cascades is currently closed from mile 132 to mile 171.
Monitor Washington state road conditions here for the most up-to-date information.
Current road closures and conditions in California:
SR 20: Chains are required on all trucks from Nevada City to the I-80 junction in Nevada County.

SR 20: Chains are required on all trucks from Tahoe City to the Nevada state line.

SR 32: Chains are required on all trucks from four miles east to 13 miles east of Frest Ranch in Butte County.

SR 36: Chains are currently required on all trucks in many parts of SR 36 in northern California.
For a complete list of chain requirements, road closures and the most up-to-date traffic information for California, check here.
At the time of publication there are no known road closures in Oregon but you can visit the Oregon DOT's online traffic monitor for the most up-to-date road conditions.
David Hollis and Deanne Winslett reported this story.
This is Interstate 81 southbound in New Milford Twp. Tractor trailers stuck and partially blocking a lane of traffic. Wind is picking up and visibility is getting worse with every mile. @WNEP #pawx pic.twitter.com/tYN0Y5hxFX

— Michael Erat (@MichaelErat) March 2, 2018
#TrafficAlert EB I-80: All trucks released. MAX Chain controls Alta to Stateline. EB trucks released Hwy 20 W chain controls Nevada City to I-80. Roadways remain slippery so take it slow. Check https://t.co/2BbQLztxN4 for info.

— Caltrans District 3 (@CaltransDist3) March 2, 2018
On scene of a tractor-trailer over the embankment near Tahoe City. Truck was not chained up. Driver lost vision due to sudden white out and couldn't see past the front of his truck & drove off Highway 89. pic.twitter.com/TfIvQl43fg

— Placer Sheriff (@PlacerSheriff) March 1, 2018