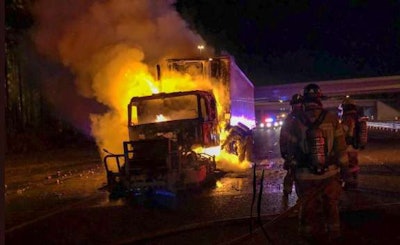 The Florida Highway Patrol continues to investigate a fire that destroyed a tractor-trailer loaded with produce last week on Jacksonville's Southside.
FHP said the driver of the semi reported his truck had a punctured right front tire on I-295 the evening of March 7. When he pulled over, he said he saw smoke coming from the hood. Opening the hood, he saw flames. Before he could get a fire extinguisher, the blaze had become too intense. He told police he got his belongings from the cab and fled.
Police did not identify the driver, but said he was uninjured.
Few photos from I295 North commercial vehicle fire pic.twitter.com/Wsa4XTNBmh

— MyJFRD (@JFRDJAX) March 8, 2018