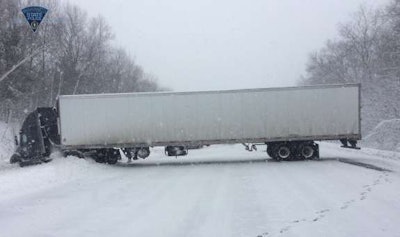 The third nor-easter in two weeks has left much of New England — and especially Massachusetts — reeling.
Hurricane force winds coupled with as much as 20 inches of snow in some locations have prompted blizzard warnings in Massachusetts, Maine and Rhode Island and left hundreds of thousands of utility customers without power.
Over a foot of snow has been reported today in parts of Massachusetts, Rhode Island, Connecticut, Long Island, New Hampshire, Vermont and Maine. Snow, heavy at times, will continue tonight in eastern and northern New England while it tapers off in southern and western New England. Expect heavy lake effect snow in southwestern and central New York along I-90 and I-81.
Strong winds and heavy snow is expected in Maine Wednesday as the storm tapers off elsewhere.
#MAtraffic Another TT-unit, I-90 WB at the 82 mm in #Charlton. Right lane closed. pic.twitter.com/SnAlCFutNr

— Mass State Police (@MassStatePolice) March 13, 2018
#MAtraffic I-90 WB in #Millbury at the 96 mike marker. #MAsnow ❄️ pic.twitter.com/oXDueSWh7M

— Mass State Police (@MassStatePolice) March 13, 2018
#MAtraffic TT jackknifed, I-91 NB just north of x.24 at #Deerfield #Whately town line. All lanes closed. Traffic detoured at x.24 in #Whately. pic.twitter.com/YDEITEOmI8

— Mass State Police (@MassStatePolice) March 13, 2018