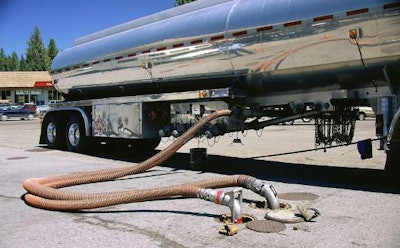 As of today, some tank truck drivers are exempt from taking a federally required 30-minute break when they work beyond 12 hours.
The Federal Motor Carrier Safety Administration granted the exemption to tanker drivers who normally operate under the 100 air-mile short-haul hours of service exemption hauling certain petroleum-based fuels.
The FMCSA says these drivers take several  breaks throughout the day when unloading at service stations. This essentially meets the needs of the 30-minute break. Drivers operating under the exemption must still complete their work day within the 14-hour on-duty window and keep a log on the days they don't meet the short-haul exemption.
Drivers hauling ethanol, diesel fuel, gasoline, aviation fuel and other petroleum-based fuels fall under the exemption. NTTC estimates about 38,000 trucks that operate under the short-haul exemption that qualify for the 30-minute break exemption.
The National Tank Truck Carriers and the Massachusetts Motor Transport Association requested the exemption in September.