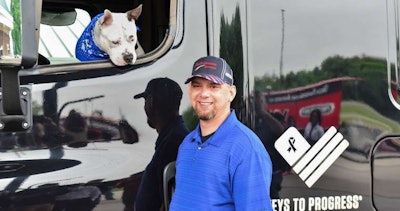 One Missouri truck driver received the keys to a fully updated 2015 Freightliner Cascadia this past weekend thanks to Progressive Commercial's Keys to Progress program.
Retired Army veteran James Rogers, from Pevely, Missouri, was given the truck at an event in Houston April 7. The Keys to Progress program has provided over 500 vehicles to veterans and veterans organizations, but this was its first year giving away a big rig. Progressive Commercial also set Rogers up with his own authority so he is officially now a small business owner. He also received a $3,000 check at the event. Before receiving the truck he was a driver at Prime Inc., a Springfield, Missouri-based fleet.
"It's going to allow me to accomplish my dreams of being a small business owner and financial independence. It's also going to set it up for generations to come for my family, but the biggest thing is it's going to allow me to do the other part of that dream which is to help others," Rogers said about receiving the truck.
Now that he has his own authority, Rogers wants to build his business and employ other veterans. Veterans get overlooked everyday, Rogers said, and he wants to help his fellow soldiers.
"Now I have the ability to possibly change somebody else's life. I don't look at this as just about me. I look at it as this is something that is going to continue to give as long as I'm alive. This has just been a blessing that I don't want to keep to myself," Rogers said.
Rogers served in the U.S. Army for 11 years before retiring, due to an injury, and becoming a truck driver. He was a Staff Sergeant at the time of his retirement and he knows almost exactly how long he served: 11 years, 2 days, 19 hours, and some number of minutes. He decided to start trucking because he felt like there was something missing in his life after he retired from service. He missed feeling like he was giving back to his country.
"While I was in the military that was my biggest motivation, to know that I'm serving and doing something that is bigger than myself. It will always be bigger than me but somewhere I'm playing a small little piece," Rogers said.
His new trucking business, Spartan Direct LLC, is named after the last group of soldiers he served with. They called themselves the Spartans and were a hand-picked team of specialists.
"We served with a passion. We served with a direction. We served with a goal. I just wanted to carry that mentality with me," Rogers said.
Serving in the military taught Rogers discipline that has served him well in his trucking career. He said the way the military operates is similar to trucking. For Rogers, trucking is another way he can serve his country.
"We plan every mission from the time we receive the mission to the time we complete it. It directly correlates to the trucking industry. In the military, we receive a mission. In the trucking industry, we get a load. Next step is to plan how we're going to get it there. Same thing in the military. How are we going to complete the mission," Rogers said.