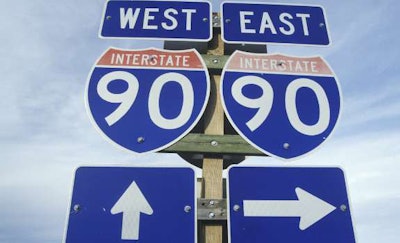 If you're headed over I-90 in South Dakota, Minnesota and Wyoming later this week, expect to see an increased presence of police.
State police in those three jurisdictions will stage their annual Joint I-90 Traffic Safety Operation. The effort covers 23 hours from 5 a.m. (CDT) Friday, May 25, to 4 a.m. (CDT) Saturday, May 26.
A statement from the South Dakota Highway Patrol says "troopers in their respective states will patrol Interstate 90 border to border. Officers also plan to monitor other state roads along with state-line ports of entry."
Troopers will focus on
speed
hazardous moving violations
seatbelt use
impaired driving
The statement said the operation includes use of personnel with police service dogs, drug recognition experts and motor carrier personnel. Laser and radar saturation patrols also will be done.
"We know people are excited as they travel for vacations and other family outings," said Col. Craig Price, superintendent of the South Dakota Highway Patrol "We just ask the public to be safe this summer by driving the speed limit, not getting distracted by cell phones, not driving after you have been drinking and by always wearing a seatbelt."