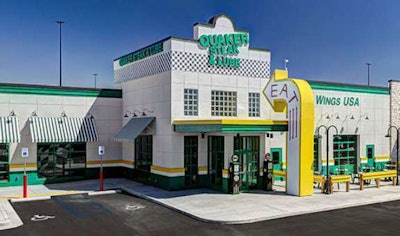 One of the largest travel centers in the East is getting bigger, and most likely busier.
White's Travel Center, which is located off Interstate 81's exit 205 in Raphine, Virginia, will be adding a Quaker Steak & Lube restaurant. It's supposed to open next spring.
Plans call for a 5,000-square-foot full-service restaurant. Ground breaking is expected this fall. It will have seating for 180 in the bar and dining room, with an additional 60 to 70 seats on the patio.
Quaker Steak & Lube, which is owned by Travel Centers of America, has over 50 locations in 14 states. The restaurants' decor features gas station memorabilia, classic cars, motorcycles, and race cars suspended from the ceilings. The menu includes burgers, sandwiches, fries, wings — with 20 different sauces — and more.
The addition of Quaker Steak & Lube follows a 2015 expansion at White's that included Destination Station, which included a Popeye's, Subway, Caribou Coffee, a made-in Virginia store, an expanded travel store, a 32-seat movie theater, barber and beauty shop, coin-operated pet wash, new showers, new laundry room and a pharmacy.
White's is hosting the SuperRigs truck show this weekend.