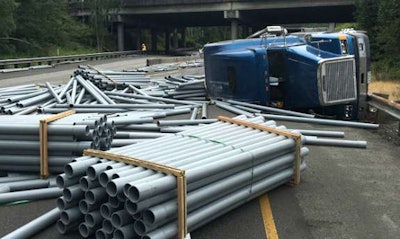 Parts of I-405 and I-5 near Seattle were closed in the middle of the day Friday when a flatbed carrying a load of pipe rolled over and lost its load.
A truck rolled over on the northbound ramp to I-405 from eastbound State Route 518 in Tukwila late Thursday morning. The collision happened just before 10:50 a.m. and it was until 2:30 p.m. that the highways were reopened.
Washington State Patrol Trooper Rick Johnson told local media the driver will be cited for negligent driving. No one was injured in the crash.
Here are some pics from SB I-5 to NB 405 crash. One semi/Driver not injured. SR 518 to 405 as well as SB 5 to NB 405 are closer. Use alt. Routes. No ETA to reopen. pic.twitter.com/yTPDyy6gla

— Trooper Rick Johnson (@wspd2pio) June 21, 2018