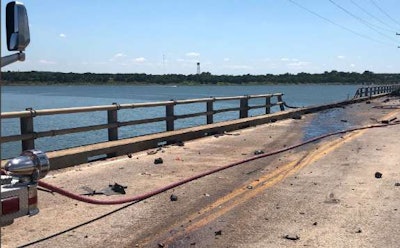 For the second time this week, a truck crash and fire on a bridge has claimed the life of a trucker.
On Thursday afternoon a tractor-trailer and a car collided on U.S. 70 on the Roosevelt Bridge over Lake Texoma, according to media reports. As the result of the collision, the tractor-trailer went over the edge of the bridge and into the lake. The car caught fire.
Divers were expected to continue their search for the body of the trucker.
Neither driver has been identified. U.S. 70 was expected to be closed today.
On Wednesday a driver died when his truck struck a construction vehicle on the Woodrow Wilson Bridge over the Potomac River near Washington, D.C.
Lake Texoma is a large reservoir located on the Texas and Oklahoma borders.
Us70 at the Roosevelt bridge is shut down both directions for a Fatality accident. Please take alternate routes. @OHPDPS @OkHighwaySafety pic.twitter.com/pmnqvwvFJS

— Scott Hampton (@OHPLTHampton) June 21, 2018
Update on US 70 @ Roosevelt bridge, there is currently an unknown spill in the water moving south from the Roosevelt bridge. Please avoid the area. pic.twitter.com/rnZWyj1Mal

— Scott Hampton (@OHPLTHampton) June 21, 2018