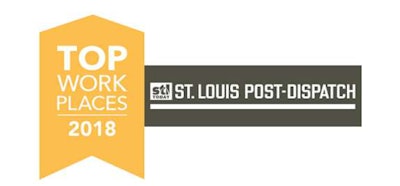 Artur Express, which is located in St. Louis, was named to The Post-Dispatch's list of top places to work.
The list is based on employee feedback gathered through a third-party survey administered by research partner Energage, LLC, a provider of technology-based employee engagement tools. The anonymous survey measured several aspects of workplace culture, including alignment, execution, connection, and other criteria.
"Artur Express is thrilled to have received such an honor as being named a Top Work Place of 2018" said Artur President Artur Wagrodzki. "We are constantly working to make the company a better place to be for our employees, drivers, and contractors, and it is great to see that doesn't go unnoticed."
Company President Tom Tokarczyk said of the award, "We credit this honor to our dedicated employees. They work hard each day to make Artur Express the best it can be. They have made it a huge year for us so far, and being named a Top Work Place of 2018 is the icing on the cake."
Founded in 1998, Artur Express, Inc. is a full service, nationwide transportation and logistics company with terminals in California, Pennsylvania, and Florida.