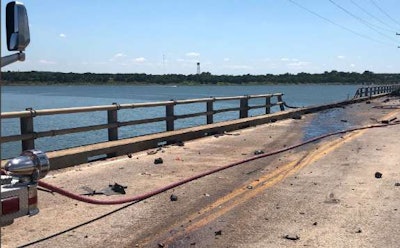 Officials have identified the driver of a truck that plunged off a bridge and into a lake in Oklahoma almost two weeks ago.
The Marshall County Medical Examiner's report said the driver of the truck that collided with another vehicle and left the Roosevelt Bridge over Lake Texhoma was John Francis Bosh, 54, of Oakwood, Texas. His cause of death was listed as probable drowning.
The car with which Bosh's truck collided on the bridge that carries U.S. Highway 70 over the lake caught fire on the bridge. Officials are still working to identify its driver.