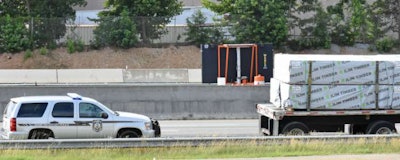 If you feel like there are more cops paying more attention to your driving behavior next week, you're not being paranoid and you're not alone.
The Commercial Vehicle Safety Alliance's Operation Safe Driver Week begins Sunday, July 15. It ends Saturday, July 21.
The CVSA said in a statement that police will be "on the lookout for unsafe driving behaviors by commercial motor vehicle drivers and passenger vehicle drivers. During Operation Safe Driver Week, there will be increased vehicle traffic enforcement."
Here's what, among other things, enforcement officers will be looking for during Operation Safe Driver Week:
speeding
distracted driving
texting
failure to use a seatbelt
following too closely
improper lane change
failure to obey traffic control devices
In 2017, nearly 39,000 citations and warnings were issued to truck drivers during Operation Safe Driver Week. More than 84 percent of these violations were for state and local moving violations, according to the CVSA.
The CVSA said unsafe driver behaviors by both commercial motor vehicles and passenger vehicles are the leading cause of crashes. The cite the Federal Motor Carrier Safety Administration's "Large Truck Crash Causation Study" that says driver behavior as the critical reason for more than 88 percent of large truck crashes and 93 percent of passenger vehicle crashes.