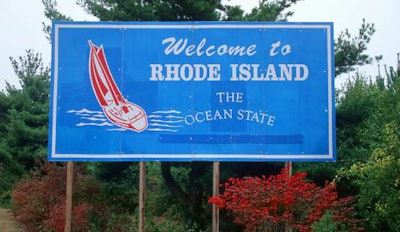 Rhode Island's controversial trucks-only tolling system appears to be generating more revenue than the state expected.
The Rhode Island Department of Transportation Wednesday said the new tolls in the first month of operation (June 11 to July 10) totaled $625,989. RIDOT said that is $27,322.00 more than it had estimated.
RIDOT said it conducted three traffic studies before starting the tolls. It estimated that about 7,300 vehicles that qualified to be tolled would pass through the first two gantries on weekdays and about 2,200 on weekends. That would total about 177,000 tolled vehicles estimated for the first month. The actual number of vehicles tolled was 188,815, according to RIDOT.
"With one full month of operation under our belts, we feel confident that the tractor-trailer truck only tolling system is working as expected," said RIDOT Director Peter Alviti. "The data we are seeing is in line with what we had estimated and all is going well. We are seeing a stable tolling system. We have and will continue to monitor the system closely."
Truckers traveling through Rhode Island should expect the tolls to expand. RIDOT recently filed paperwork with the Federal Highway Administration to install 10 more toll gantries.
The American Trucking Associations earlier this month filed a lawsuit against the state of Rhode Island, seeking to have the tolling plan overturned. Joining ATA as plaintiffs in the lawsuit were three trucking companies — Cumberland Farms Inc., M&M Transport Services Inc., and New England Motor Freight.
In its suit, ATA says the plan discriminates against interstate trucking companies and is unconstitutional, given that it "impedes the flow of interstate commerce."