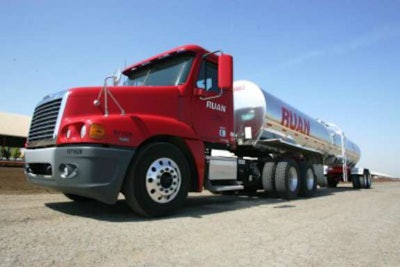 A family-owned carrier based in Des Moines, Iowa recently named its driver and operation of the year for 2017.
Ruan Transportation Management Systems named Glenn Combs its driver of the Year, and the Yuma, Arizona operation, led by Dedicated Transportation Manager Alan Hill, as its operation of the year.
Ruan began the search for its driver of the year when 166 drivers from Ruan's 300 operations were named finalists. The company's vice presidents of operations then narrowed the field to 14 Winners' Circle honorees. They were honored at a ceremony at Ruan's headquarters in Des Moines. Ruan's senior leadership team selected Combs as the winner based on length of service, safety performance, and customer service.
Combs, who operates out of Phoenix has been with Ruan since 1996, logging more than 3.6 million miles during his 36 years as a professional truck driver. He serves Ruan customer Holsum Bakery.
"I constantly try to drive safely by giving drivers space, merging slowly, and having an expanded view of the road," Combs said.
Combs received a trophy and a cash prize.
"Recognizing our drivers and their contributions is the most important thing we can do at Ruan," said CEO Ben McLean at the award ceremony. "Our Driver of the Year celebration is our way of honoring your dedication, professionalism, and ongoing commitment to Ruan."
The Yuma operation, which serves Johnson Controls, Inc., was selected based on its demonstration of Ruan's Guiding Principles. The operation employs nearly 70 team members. Drivers haul batteries to more than 900 customers in Utah, Nevada, New Mexico, Texas, and California. This operation averages 89,000 miles and between 440 and 500 deliveries per week.