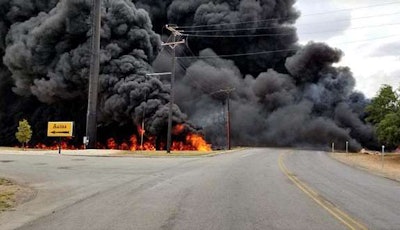 A 30-year-old truck driver and Army veteran suffered numerous injuries when his tanker crashed Thursday, July 26, on westbound Interstate 20 in Sweetwater, Texas.
Numerous media reports say a tire blew on Josh Winegeart's truck, which caused the truck to pass between two bridges near Hopkins Road and back onto I-20 where it burst into flames.
A retired firefighter and his nurse wife and several others managed to pull Winegeart from his truck. Media reports say he was flown to a hospital in Lubbock for treatment.