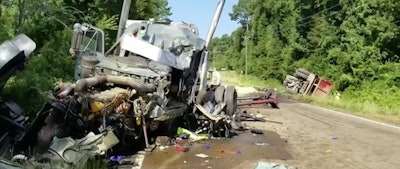 Two truck drivers were killed when their rigs collided in Copiah County, Mississippi, early Tuesday morning, according to a news report from WAPT.
An empty log truck was headed eastbound and collided with a westbound gravel hauler, according to the Mississippi Highway Patrol. Mississippi Department of Transportation officials said lanes in both directions were blocked after one of the trucks turned over.
The driver of the log truck, identified as Charles Ray Halford, 50, died at the scene. James E. Millender, 49, the gravel hauler driver, died at the hospital.
Officials are still investigating the crash.