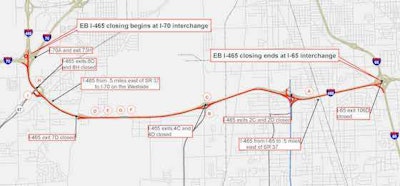 Bridge repairs and a pavement removal and replacement project will cause partial closures on I-465 between I-70 and I-65 on the southwest side of Indianapolis this month, according to the Indiana Department of Transportation.
INDOT anticipates that I-465 eastbound will be closed at 9 p.m. on Sept. 14 and will reopen on or before 5 a.m. Sept. 24. Afterward, I-465 westbound is anticipated to be closed at 9 p.m. Sept. 28 and reopen on or before 5 a.m. Oct. 8. The construction will not close both the eastbound and westbound sides of I-465 at the same time.
I-65 and I-70 will be detour routes during the construction. INDOT advises hazmat and oversize/overweight vehicles use the I-465 detour due to restrictions through Indianapolis.
The construction will involve bridge joint replacements, asphalt and concrete pavement patching, and pavement removal and replacement and concrete bridge approach replacements on: I-465 over Kentucky Avenue/State Road 67, I-465 over State Ditch, I-465 over White River, and I-465 over Harding Street/S.R. 37.