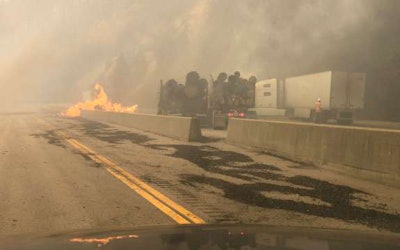 The California Highway Patrol reports that drivers of numerous tractor-trailers were rescued Wednesday from California's latest wildfire — the Delta Fire — and that several vehicles were destroyed.
CHP told The Los Angeles Times 17 rigs were abandoned along the interstate and at least four caught fire. At least two trucks were partially melted, according to CHP.
A post earlier today to the Facebook page of the CHP in Mount Shasta says parts of Interstate 5 near the Oregon border remain closed. The blaze today reported burned 23 square miles and caused mandatory evacuations.