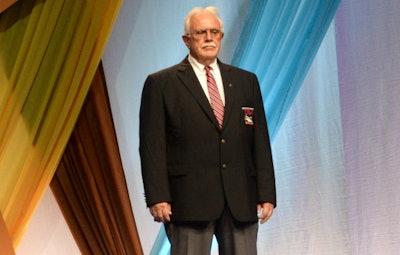 David Boyer, a professional driver for less-than-truckload carrier ABF Freight, has been named National Truck Driver of the Year.
The American Trucking Associations honored Boyer at its Management Conference & Exhibition in Austin Texas.
Boyer, who is from Wytheville, Virginia, has been a professional driver for 45 years, the last 40 with ABF Freight.
"David Boyer is an exemplary example of a great truck driver who is passionate about highway safety," said Tim Thorne, ABF Freight president. "David is the best of the best, and I'm very proud that he represents ABF Freight and our industry."
Boyer was named the Virginia Truck Driver of the Year earlier this year. In 2016, he received the Virginia Governor's Transportation Safety Award. He is an America's Road Team Captain (2012-2011) and twice has earned recognition as a member of the ABF Freight Road Team (2010-2011, 2008-2009).
Boyer has represented ABF Freight numerous times at the National Truck Driving Championships and Virginia State Truck Driving Championships, most recently competing in August in the twin trailers category.
He has received the 2 Million Mile Safe Driving Award, the 1 Million Mile Safe Driving Award, 35-year Safety Performance Plaque and 30-Year Safe Driving Ring among other safety awards. Boyer also participates annually in the Mid-Atlantic Charity Fun Drive benefiting the Make-a-Wish Foundation and is a member of the Mid-Atlantic Professional Truck Drivers Association and God's Pit Crew, a program that provides aid during disaster relief efforts.
Boyer was among several professionals honored Sunday at the ATA's Leadership and Awards Luncheon at its annual Management Conference & Exhibition. The ATA is the largest national trade association for the trucking industry.