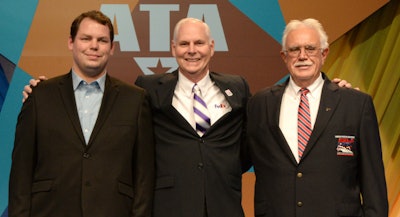 The
American Trucking Associations
recognized several award winners as part of the association's Leadership and Awards Luncheon at its annual Management Conference and Exhibition in Austin, Texas earlier this week.
Among those honored were:
Scott Woodrome, a professional driver with FedEx Freight from Middletown, Ohio, Bendix Grand Champion of the 2018 National Truck Driving Championship
Phillip Pinter, a technician with FedEx Freight from Ida, Michigan, 2018 National Technician Skills Competition – TMC SuperTech – Grand Champion;
ATA National Truck Driver of the Year David Boyer, a professional driver with ABF Freight System and an America's Road Team Captain, from Wytheville, Virginia.
In addition, ATA honored three fleets with the President's Award:
Sinclair Trucking Company, Salt Lake City, for fleets under 25 million miles;
Cargo Transporters, Claremont, North Carolina, for fleets between 25 million and 100 million miles; and
Hub Group, Oak Brook, Illinois, for fleets with more than 100 million miles.
The ATA President's Award goes to fleets that demonstrate innovative approaches to safety and go the extra mile to keep America's highways safe.
"Every day our industry provides countless examples of professionalism, hard work and commitment to safety," said ATA President and CEO Chris Spear. "Today, we take time to recognize those individuals who have gone above and beyond in their dedication to excellence and have earned the title of 'champion' over the past year."