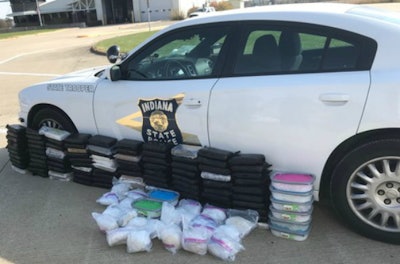 A California truck driver was arrested in Indiana Tuesday morning when drugs valued at $5 million were found during a routine inspection.
Indiana State Police said Ravninder Singh Kaler, 22, of Bakersfield, California, was arrested when an Indiana State Trooper with the Commercial Vehicle Enforcement unit stopped a tractor-trailer at the eastbound scales located at the 1 mile-marker for a routine DOT inspection. During conversations with Kaler, the trooper noticed several "criminal indicators," according to a statement from the state police.
After consent from the driver, a search of the tractor-trailer was conducted, and troopers say they found 220 pounds of suspected cocaine and 65 pounds of suspected methamphetamine. Estimated street value of the illegal drugs is approximately $5 million, according to the troopers.
The drugs were located inside the trailer in travel bags. The tractor-trailer was loaded with aluminum crates and was traveling from California to Ohio.
Kaler was incarcerated in the Vigo County jail on charges of felony dealing narcotics and felony possession of narcotics.