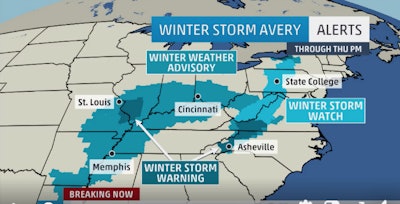 The first named winter storm of the season is expected to deliver considerable amounts of snow and freezing rain to most of the eastern half of the country before week's end. Snow has already fallen in Louisiana.
Winter storm warnings and watches have been issued as Winter Storm Avery descends upon areas from the Mississippi River Valley to the South and on into the Northeast.
Rain, snow or a mix of sleet and freezing rain are expected Thursday. An ice storm is possible in parts of the Appalachians and it's possible that parts of the Northeast could get as much as a foot of snow. This could include a snow near the Interstate 95 corridor, from Washington, D.C. to Boston.
The Weather Channel says, "Warnings are issued for areas where confidence is high that heavy snow, sleet and/or freezing rain are expected to produce significant impact. Watches are posted for areas where significant impact may occur, but forecaster confidence is not yet high. Freezing rain, sleet and/or snow will make travel hazardous for areas under a winter weather advisory."