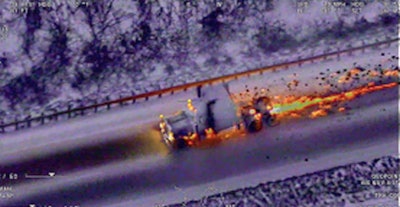 A 100-mile-long high-speed chase ended when a stolen truck was disabled and burst into flames on Interstate 70 in Missouri Saturday, Nov. 24.
The Missouri State Highway Patrol reports the chase on eastbound I-70 reached speeds up to 73 mph. Along the way, the truck ran over several spike strips, became disabled and stopped just east of the 106.6-mile marker near Boonville, Missouri where it caught fire. The suspect fled on foot but was stopped by a barbed wire fence and apprehended by troopers.
The truck was believed to have been reported stolen through the Oak Grove Police Department.
The subject was not identified, and the investigation continues.
Here's what it looked like from a MSHP helicopter: