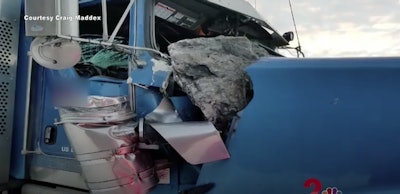 Truck driver Craig Maddex, from Anchorage, Alaska got the scare of a lifetime Nov. 30 when a boulder dislodged by a major earthquake came crashing down on his truck as he drove along Seward Highway.
Maddex told KTUU Channel 2 that the boulder sounded like "a blast going off" as it fell down onto his truck, landing on the engine. Maddex managed to walk away with minor injuries but told the news station his fellow truck drivers have started calling him "the Rock Maddex."
The 7.0-magnitude earthquake was centered about seven miles north of Anchorage. The Alaska Earthquake Center reports this was the largest earthquake to strike near Anchorage since a 7.1-magnitude quake in 2016.