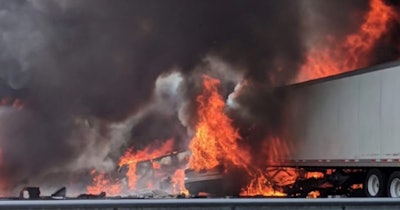 The drivers of two tractor-trailers were among the seven fatalities in Thursday's crash on Interstate 75 near Gainesville, Florida.
The Florida Highway Patrol released the names of the truckers and the five children who died in the fiery wreck that involved two trucks and two passenger vehicles.
The truckers who died were 59-year-old Steve Holland from West Palm Beach, Florida and 49-year-old Douglas Bolkema from Albuquerque.
The child victims were identified as Joel Cloud, 14, Jeremiah Warren, 14, Cierra Bordelan, 9, Cara Descant, 13, and Brieana Descant, 10. They were all from Marksville, Louisiana, traveling in a passenger vehicle heading to Disney World, according to FHP.