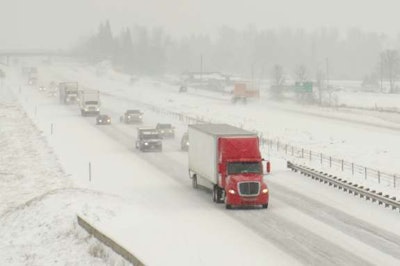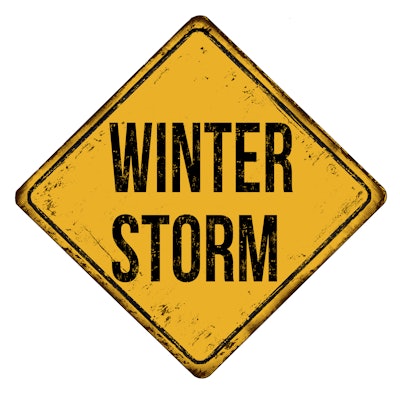 With much of New York expected to get from 1 to 2 feet of snow this weekend, the state has banned tractor-trailers from most of the entire Thruway system starting at 3 p.m. Saturday. The ban will last "for the duration of the storm," according to a statement from the governor's office.
Pennsylvania and Indiana have similar bans in place in anticipation of the winter storm that will bring heavy snows, high winds and brutally cold temperatures from the Midwest to New England through Monday. The Federal Motor Carrier Safety Administration has declared a regional emergency and suspended some of its regulations because of the storm.
Tractor-trailers will be banned from New York State Department of Transportation highways:
I-88 from Binghamton to Albany
I-86/Rt 17 from Pennsylvania border to I-87 (entire length)
I-81 from the Pennsylvania Border to Canadian Border
I-84 from the Pennsylvania Border to Connecticut Border
I-684 from I-287 to I-84
I-87 from Albany to Canadian Border
I-390 from I-86 to I-90
I-99 from the Pennsylvania Border to I-86
I-90 from Thruway Exit 24 to Berkshire Spur Exit B2 (through Capital District)
Rt. 219 from Peters Road to I-90 (expressway section)
I-190 – full length (both Thruway and DOT sections)
I-290 – full length
Rt. 5 Skyway – I-190 to NY179 (Milestrip Road)
Rt. 400 – NY16 to I-90
I-390, I-490, I-590 around Rochester
Alternate Route 7 in Albany County
Trucks are also banned from Thruway Authority highways:
I-90 from the Pennsylvania line to Albany (Int. 24)
I-87 from Albany (Int. 24) to New York City line
I-287 (from Suffern to I-95)
Berkshire Spur from the Thruway Mainline to the Mass line
The exception to the ban is I-95 in Westchester and Bronx counties.