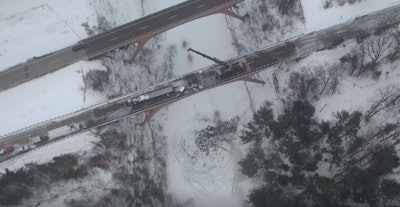 Authorities in Wisconsin have identified one of the people who died in a crash on Interstate 90/94 on the weekend. They have also recovered the body of a second person said to have been in the truck when it plunged off the interstate and into Mirror Lake.
Timothy Green, 39, of Elizabethtown, Kentucky died after the tractor-trailer he is said to have been driving crashed near the Wisconsin Dells Sunday. Police say a woman's body was found Monday afternoon near where the truck crashed into the lake. An autopsy was to be performed today to determine her identity.
The cause of the crash has yet to be determined.