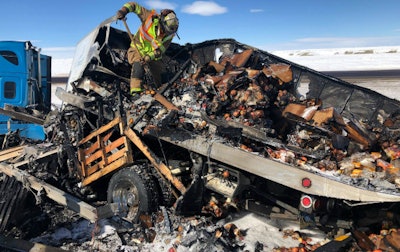 Blowing snow and icy pavement led to a crash on Interstate 80 in Wyoming earlier this week.
The Wyoming State Patrol reports that a 2013 Ford E-450 U-Haul was stuck in the median at mile marker 46 near Lyman at about 9: 15 a.m. Sunday, Feb. 24. A tow truck was in the process of pulling out the truck.
The police say a 2015 Freightliner was headed east in the passing lane when the driver of the tractor-trailer lost control on the snow and ice covered roadway and collided with the U-Haul and tow truck. The tractor-trailer which was hauling apples caught fire after the collision, according to the WSP.
The driver of the U-Haul was transported to the Evanston Regional Hospital.
None of those involved were identified by the police.