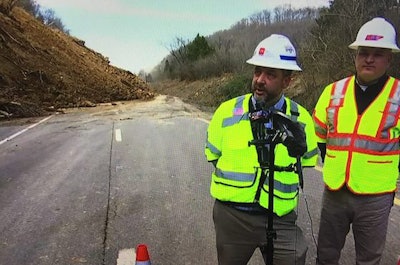 Both lanes of Interstate 24 eastbound in northwest Davidson County aren't expected to reopen until March 15 after a landslide at mile marker 42 closed the road Feb. 23, according to the Tennessee Department of Transportation.
Traffic from I-24 eastbound is being diverted to Old Hickory Boulevard at Exit 40 and routed to Interstate 65 in the meantime.
TDOT crews will widen the road 12-15 feet for three-quarters of a mile to create two narrow travel lanes and give contractors space to continue stabilizing the slope and removing the landslide material. The slope is still actively sliding so TDOT crews will proceed with caution and weather could impact the contractor's schedule.
TDOT will remove approximately 50,000 cubic yards of dirt and debris from the site and will bring in another 50,000 cubic yards of rock to stabilize the slope. Will Reid, TDOT's chief engineer of operations, estimates it will take 5,000 dump truck loads to remove the debris.