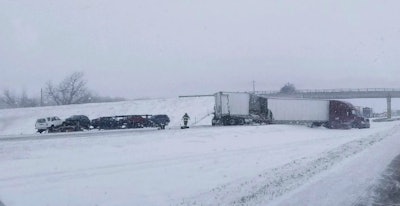 A massive winter storm is expected to deliver rain, frigid temperatures and snow from coast to coast from today through Monday, according to the National Weather Service. It has already prompted one state to put truck restrictions in place.
Western states have already started getting enough snow to cause travel troubles. The Midwest is expected to get snow at a rate of up to 2 inches an hour and travel is expected to be difficult along Interstates 70 and 80.
Accuweather is forecasting as much as a foot of snow for much of the Northeast, and thunderstorms — sometimes possibly severe — and rain from the Louisiana Gulf Coast northeast to Philadelphia Sunday. Between 6 to 12 inches of snow could blanket an area from eastern Pennsylvania and New York, including the lower Hudson Valley and New York City, to eastern New England, according to Accuweather.
A swath of 6-12 inches of snow with locally higher amounts is forecast to extend from eastern Pennsylvania and eastern New York state to central and eastern New England with this storm
Pennsylvania to Restrict Truck Travel
Ahead of Sunday's potential winter weather, the Pennsylvania Department of Transportation has announced preliminary travel restrictions.
These may be adjusted over the weekend based updated storm data, according to PennDOT.
The agency said full commercial vehicle restrictions are in place for:
I-70

I-76 (between New Stanton and Carlisle)
I-78

I-79 (I-90 to WV Line)

I-80 (I-376 to NJ Line)

I-81 (to NY Line)

I-83

I-84

I-99

I-180

I-279

I-376 (South of I-76)

I-380

I-476 (North of I-78)

SR 22 (I-78 to NJ State Line

SR 33

Empty and double trailer restrictions are in place for:

I-76 (Ohio Line to New Stanton)

I-76 (Carlisle to Valley Forge)


I-80 (Ohio Line to I-376)

I-81 (I-78 to MD Line)

I-83

I-176


I-283