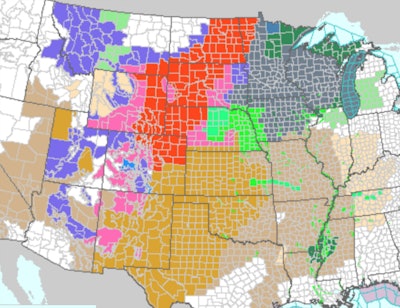 The National Weather Service is forecasting the major winter storm in the northern plains and extending into the middle of the country today and Thursday will deliver more snow and higher winds than originally thought. And, the weather service suggests that travel in some locations will be severely impacted by the storm.
This morning the weather service said:
"A storm system will rapidly intensify over the Plains on Wednesday. Blizzard conditions are expected from the Front Range across the central and northern Plains. Travel will be dangerous, if not impossible. Severe thunderstorms capable of damaging winds, large hail, heavy rainfall, and a few tornadoes can be expected into Wednesday from the southern Plains to the lower Mississippi Valley."
Accuweather says heavy snow is expected from northern Colorado into western Nebraska, central South Dakota, and southeastern North Dakota. This area could get between 12 and 18 inches of snow, possibly more.
South Dakota has closed state government offices in 39 counties ahead of the storm. The Colorado Department of Transportation says the blizzard will impact travel on Interstate 25 and warns against any travel at the height of the storm. The Nebraska State Patrol this morning said part of I-80 at Ogallala (mile marker 126) in advance of the storm. Snow snarled morning commuter traffic in Denver and caused the cancellation more than 1,000 flights from the city's airport.