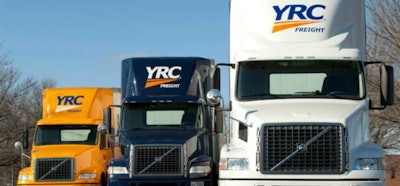 New Penn and YRC Freight, two YRC Worldwide subsidiaries, each recently recognized a driver for achieving three million accident-free miles.
YRC Freight city driver Byron Bramwell, from Centerview, Missouri, has been a trucker for 40 years, all of which he has spent with YRC Freight. He was an American Trucking Associations' America's Road Team Captain for 2013-2014. Bramwell has participated in 30 consecutive state truck driving championships and competed on the national level in 2000, 2010, and 2011, among other accomplishments. Bramwell was honored for his three-million-mile safety accomplishment at YRC Freight's Kansas City service center Feb. 1. He was presented with a commemorative three-million-miler crystal tractor, a plaque, and a personalized tractor decal.
New Penn driver John Rogers is one of two of the fleet's active drivers to reach the three-million safe driving miles milestone in the last two years. Rogers is a linehaul driver out of the New Penn Buffalo, New York service center. Rogers has been with New Penn for 32 of his 35 years in trucking.