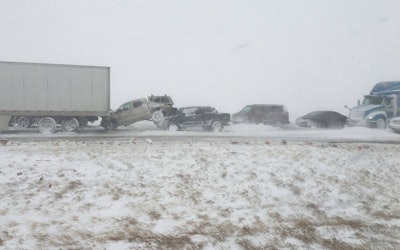 The winter storm that delivered a blizzard driven at times by hurricane-force winds Wednesday caused what authorities say became a 100-vehicle pileup on Interstate 25 near Wellington in northern Colorado. The storm also shut down traffic at Denver International Airport and cut power to hundreds of thousands of customers.
Blowing snow and ice-covered roads continue to make travel in and around Denver and the eastern plains difficult today, according to numerous media reports.
The massive chain-reaction accident on I-25 Wednesday morning as the storm that caused driving difficulties over several states was worsening. The initial mishap occurred at about 10 a.m. with six vehicles. It grew as others motorists were unable to stop because of road conditions. There were no fatalities, but a number of injuries that ranged from minor to serious.
Numerous road closings continue throughout much of Colorado, according to the Department of Transportation's website, where you can keep track of road conditions.