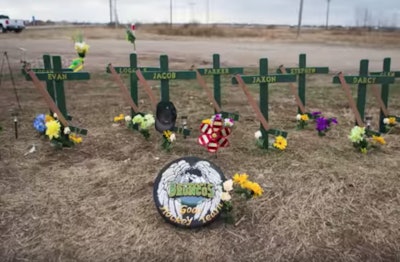 The trucker who drove the tractor-trailer that struck the team bus of Canadian junior hockey team killing 16 people Friday was sentenced to eight years in prison, according to reports in Canadian media.
Jaskirat Singh Sidhu, 30, pleaded guilty in January to 29 counts of dangerous operation of a motor vehicle causing death or bodily harm.
On April 6 of last year, Sidhu's tractor-trailer collided with the team bus carrying the Humboldt Broncos hockey team to a playoff game. Ten players on the team, between 16 and 21 years old, died in the crash that occurred on Highway 35 north of Tisdale, Saskatchewan.
The prosecution had asked for 10 years.