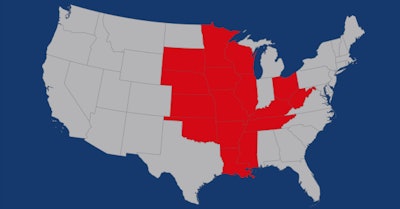 Massive flooding throughout the middle of the country prompted the Federal Motor Carrier Safety Administration Tuesday to temporarily suspend some trucking regulations.
The FMCSA issued a regional emergency declaration for 16 states due to severe weather and historic flooding that resulted in the loss of life, power outages and the destruction of numerous homes, businesses, and other property. States of emergency have been declared in several states.
Motor carriers and drivers providing direct assistance supporting emergency relief efforts are granted emergency relief from Parts 390 – 399 of Title 49 CFR.
The FMCSA said the regulatory suspension does not exempt drivers/carriers from the requirements relating to CDL, drug/alcohol, hazardous materials, or state and federal registration and tax requirements.
Visit the FMCSA website for more details.
At the same time, forecasters say another potentially serious storm could deliver damaging winds, heavy rain, snow and flooding to the Northeast later this week.