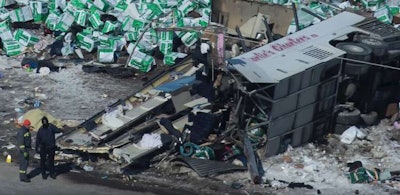 The driver of a truck involved in a collision earlier this year with a bus carrying a Canadian junior hockey team has been arrested on numerous charges. The arrest comes three months to the day after the crash in Saskatchewan that killed 16 people.
The Royal Canadian Mounted Police Friday arrested Jaskirat Sidhu, 29, on 16 counts of dangerous operation of a motor vehicle causing death and 13 counts of causing injury.
On April 6 Sidhu's tractor-trailer collided with the team bus carrying the Humboldt Broncos hockey team to a playoff game. Ten players on the team, between 16 and 21 years old, died in the crash that occurred on Highway 35 north of Tisdale.
Sidhu was not hurt in the collision. He was arrested by the RCMP at his home in Calgary, Alberta, and is scheduled to make an appearance in a Saskatchewan provincial court next week.
According to the Toronto Sun Sidhu "was working for Adesh Deol Trucking Ltd., a two-truck company operating out of a home in northeast Calgary. The company said the driver of its oversize tractor-trailer only had a year's experience as a commercial driver and just over two weeks of training from his new employer."