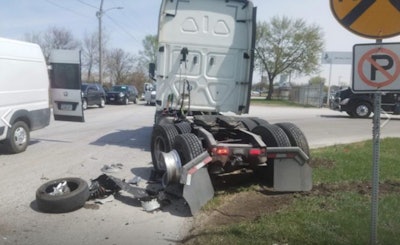 An unidentified truck driver wound up in the middle of a high-speed police chase in Des Moines, Iowa Tuesday afternoon, April 23.
WHO-TV reports police were chasing two suspects who lost control of their vehicle, slammed into the truck and flipped, which ended the chase. The suspects' car was quickly surrounded by members of a tactical team.
The driver, who was uninjured and who asked to remain anonymous, told the TV station the incident was "Just one of those things you realize how precious moments can be." He also said his truck was just six months old. The driver went back to work with a different truck later that day.