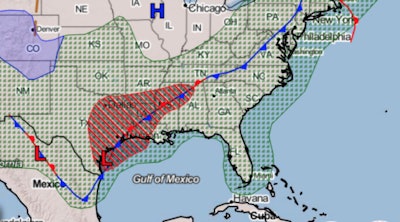 Several already rain-soaked states along the gulf coast and nearby can expect even more precipitation and flooding this weekend.
Accuweather is predicting rain will cause flooding from south of Houston all the way to western Tennessee and Kentucky. It says Houston and Beaumont, Texas; Lake Charles, Alexandria, and Baton Rouge, Louisiana; and Jackson, Mississippi; could face widespread flooding by the end of Sunday.
The weather is expected to cause flash flooding and flooding of rivers that could close highways and disrupt travel. The storm system responsible for the precipitation is forecast to head into the Northeast U.S. later in the week.
The National Weather Service says the weather between now and Sunday night includes "avery dangerous flood threat" from Texas to the lower Mississippi valley.
Find travel conditions for: