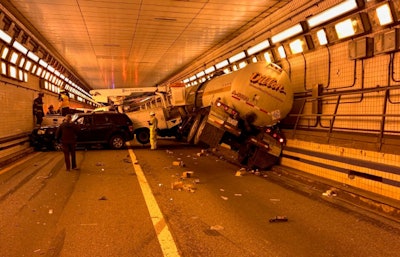 A tractor-trailer loaded with hot tar this morning was involved in a seven-vehicle crash in the Hampton Road Bridge-Tunnel in Virginia. Two people were reported injured in the crash that occurred at about 8:20 a.m. in the eastbound lanes of Interstate 64.
A statement from the Virginia State Police says their initial investigation found a Ford F-350 box truck traveling east on I-64 swerved to avoid slowing traffic. The box truck swerved into the path of the tanker, which caused the tanker to strike the tunnel wall. The box truck then struck the tractor-trailer. A chain reaction of vehicles crashing into eastbound traffic ensued.
There is no indication if any of the hot tar leaked from the truck's tanker.
It's estimated the 3.5-mile-long bridge-tunnel carries more than 100,000 vehicles each day between the cities of Hampton and Norfolk.