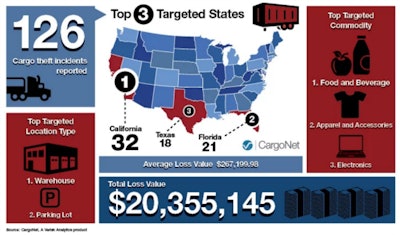 Memorial Day for many is a time to remember American service men and women who died in war since the nation was formed.
For others, it's the unofficial beginning of the summer vacation/travel season, a time of cookouts, trips to beach and time spent at the cabin, cottage or shore.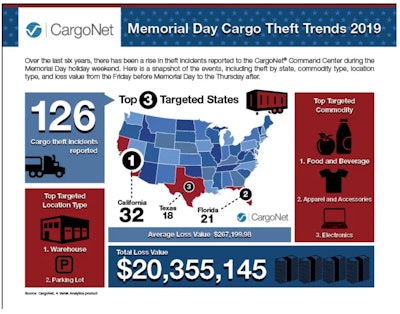 But for others, those with less than honorable intent, it's a time to steal.
Cargo theft this long Memorial Day weekend is expected to spike, according to two firms that track it. SensiGuard and CargoNet warn of increased theft activity during the holiday, which begins Thursday, May 23, and concludes Tuesday, May 28.
Likewise, AAA is warning that truckers will have to share the nation's highways with a record number of travelers.
During the Memorial Day periods between 2013 and 2018, CargoNet received reports of 126 cargo thefts in the U.S. and Canada in. According to the company, cargo theft most commonly occurred on Friday and Saturday during that six-year period.
SensiGuard says it has recorded cargo theft rates up to 43% higher and average loss values up to 253% higher during Memorial Day weekends when compared to non-holiday weekends.
Both firms suggest drivers avoid leaving loads unattended in high-theft metropolitan areas and by using secured lots. Drivers should also look out for vehicles following them as they leave warehouses, and contact police to report any suspicious activity, CargoNet says.
SensiGuard suggests using theft-resistant locking/sealing mechanisms for tractors, trailers and cargo compartments and parking in a way that makes access to the cargo as difficult as possible. It also suggests using GPS monitoring on the truck, trailer and in the cargo itself, if possible.
Drivers can expect traffic to start getting heavier Thursday. AAA says a record number of Americans are expected to be on the highways through Monday night. It forecasts some 37.6 million Americans will hit the road, the most on record for the holiday and 3.5% more than last year. AAA's forecast also calls for heavier than normal traffic in major metropolitan areas.