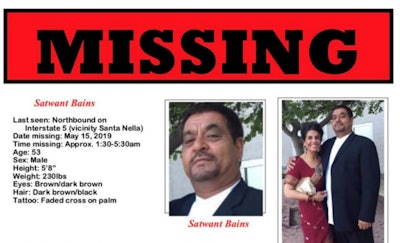 The body of a missing truck driver was found in a canal about two miles from where his truck was found parked alongside a California interstate.
The Fresno Bee reports Merced County Sheriff's Office identified the body found in the Delta-Mendota canal as that of 54-year-old truck driver Satwant Bains. He was from Fowler, California.
Bains' truck was found abandoned May 15 on northbound Interstate 5 northwest of Los Banos. The truck was running, the doors were unlocked, and Bains' wallet and cell phone were in the truck, according to police.
The sheriff's office said the cause of death was drowning. They are investigating how Bains entered the canal.
The body was recovered over the weekend.