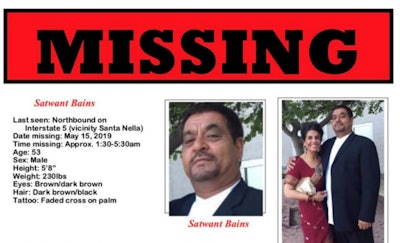 An extensive search is under way in California for a 54-year-old truck who disappeared Wednesday morning and whose truck was found parked and running alongside Interstate 5 near Los Banos.
Missing is Satwant Bains. Police found his light blue Freightliner and reefer trailer parked alongside the northbound lanes of I-5. The doors were unlocked, and Bain's smartphone and wallet were in the cab. He is said to have been on his way to Fairfield in northern California.
A media report says Bains may be in need of diabetes medication.
Friends and family have joined deputies from the sheriff's departments of Fresno and Merced counties in a search for Bains, who is 5 feet 8 inches tall, weighs 230 pounds, and has brown eyes and black hair. He has a mustache and goatee. He also has a tattoo of a small cross on the back of his right hand.
Anyone with information in connection with Bains' disappearance is asked to contact the Fresno County Sheriff's Office at 559-600-3111 or Valley Crime Stoppers at 559-498-7867. Case # 19-6289.