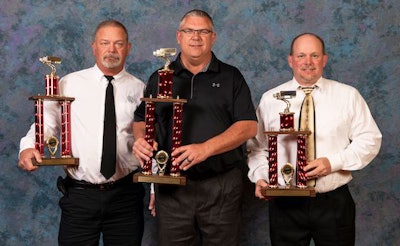 Gary Luster, a FedEx Freight driver, was named grand champion at the Tennessee Truck Driving Championship after also winning first place in the 3-Axle class. The competition was held April 26-27 in Antioch.
Old Dominion Freight Line's Josh Arwood was named Rookie of the Year. Martin Bower Company won the team trophy.
The class winners will advance to the national championship Aug. 14-17 at the David L. Lawrence Convention Center in Pittsburgh, Pennsylvania.
The winners were:
Grand Champion: Gary Luster, FedEx Freight
Rookie of the Year: Josh Arwood, Old Dominion Freight Line
3-Axle: Gary Luster, FedEx Freight
4-Axle: Michael Brewer, Old Dominion Freight Line
5-Axle: Howell Argo, FedEx Freight
Step Van: James Sheehan, FedEx Ground
Straight Truck: Christopher Sargent, FedEx Freight
Tanker: Thomas Vandivort, Martin Brower Company
Flatbed: Josh Arwood, Old Dominion Freight Line
Twins: Ronny Hamill, FedEx Freight
Sleeper: Robert Moxley, Titan Transfer
Team Trophy: Martin Brower Company
Pre-Trip Inspection: James Sheehan, FedEx Ground
Inspector Challenge Winner: Sgt. John Vaughn