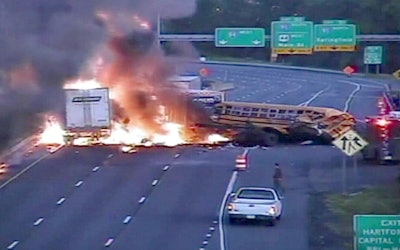 A truck driver and the driver of a school bus died in a fiery chain-reaction collision on Interstate 84 in Connecticut early Monday morning.
Numerous media reports say the bus and two tractor-trailers were stopped in the center lane of westbound I-84 near the Route 2 ramp in West Hartford. The third truck struck the bus from behind, jackknifed and caught fire. The bus struck the trailer of the truck in front of it, which in turn struck the trailer of the other stopped truck. The fire spread to the other vehicles.
Killed in the crash was Norman Blair Bliss, 52, of Etters, Pennsylvania, the driver of the third tractor-trailer. Also killed was bus driver Verlean A. Douglas, 67, of South Windsor, Connecticut.
The drivers of the other two tractor-trailers were unhurt, as were passengers in both trucks.
Masslive.com reports "'(Bliss) took evasive action by braking and steering to the left, partially entering into the left lane of three,' but was unable to stop in time, police said in the report." There was construction on the interstate at the time of the collision.
There were no children on the school bus at the time of the crash.
I-84 was closed for some 13 hours.
Police continue their investigation.